Address the Uncertainty with Digital Transformation
There's no question that COVID-19 turned the world upside down. Most businesses, including ours, had to take drastic steps to cope with the dramatic changes thrust upon them as a result of this pandemic.
Across the globe, those workers who can do so now work from home, even though many countries have started loosening isolation and movement restrictions.
Meanwhile, employers must adapt to these changes, as well as learn to serve customers through online channels, or work to offer their services while minimizing physical contact or with new precautionary measures in place to prevent further infections.
Things continue to evolve rapidly, and there is a great deal of uncertainty about what happens next. Even so, more than ever before we believe embracing Digital Transformation is no longer optional for most businesses. It's essential for recovery and success in 2020 and beyond.
Let us take a closer look at a few critical challenges we see, and ways your business can successfully navigate the future.
Human Connections Power Business
The pandemic profoundly affected communication between brands and customers. For many industries, the demand for products and services has dropped precipitously or at least changed dramatically. Concerns about safety and hygiene mean consumers turn to eCommerce options and look for alternatives to in-person meetings. We think this change is here to stay.
Changes to the ways consumers shop and interact with businesses do not translate to changes in their expectations. People will still expect to find what they need, get immediate answers, on-time delivery, and service with a smile, for example.
How can businesses provide the same level of helpful and personalised service they previously gave in brick-and-mortar shops? As outlined in this McKinsey report on contact less customer service, successful companies will gain a competitive advantage by delivering "human-centric" digital experiences.
Almost any retailer can set up an online shop. What will entice, engage and retain customers? Once you move beyond merely having stock they want to buy, to improve customer loyalty, you'll need to deliver an excellent end-to-end experience and build a human connection with them.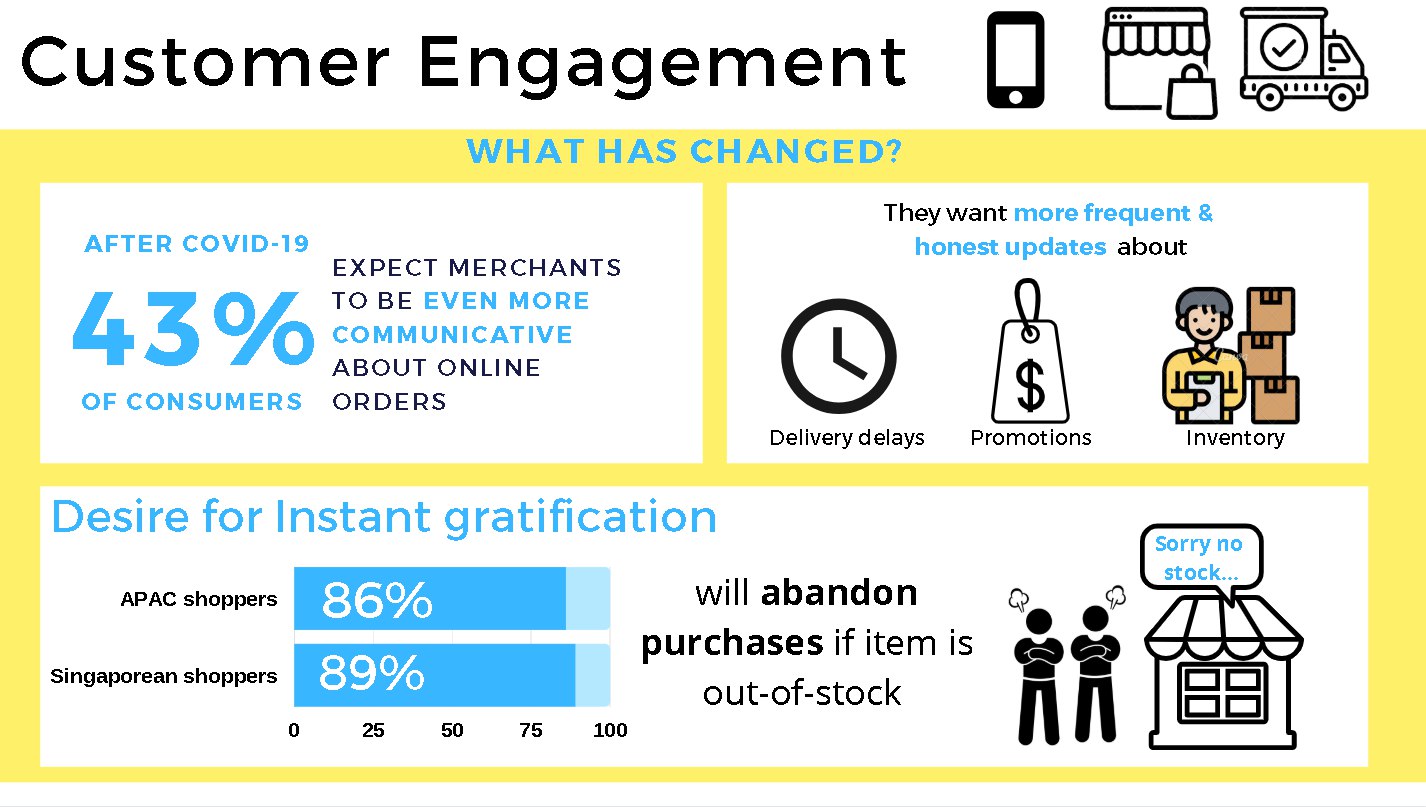 Sources: Joint ASEAN Network 10's Survey on Singaporean Consumers & Adyen APAC Retail Report
Communication Builds Rapport And Loyalty
What builds customer loyalty? Consider the following touch-points, which help provide transparency with regular and timely updates via SMS.
Send status updates for orders and deliveries, including delays.
Follow up with a quick "How did we do?" once delivery is confirmed.
Share news about your business relates to your customers with stories about people like them, based on their past purchases.
All of these opportunities can help you establish trust and confidence in your business.
Communication, through any means, is an opportunity to engage with others and to build connections. It is how you use them that makes the difference.
The tools to help you build this rapport are available today. Cloud-based telephone services like Toku Connect lets you answer business calls from anywhere, 24 x 7.
Tools like Toku nGage help you to segment, customise and personalise messages sent through SMS or social media channels, based on alerts, triggers, or events.
While many brick-and-mortar or traditional businesses may have thought of these types of services as "optional" before COVID-19, we believe these tools are indispensable, going forward.
The Power Of Telecommuting
Based on a recent CNA report, Asia Pacific countries like Singapore are engaged in the most substantial Work From Home (WFH) experiment of all time. Furthermore, a Singapore Workforce Survey done by HR Asia indicates that 80% of employees in Singapore want to continue to work from home after the current isolation and community safety measures relaxed.
In the wake of the global COVID-19 crisis, businesses from all industries are rethinking the way they work. It is genuinely challenging, yet amidst the upheaval, there comes great opportunity.
Just as the way businesses engage with customers will change, companies will need to strengthen bonds with employees and strive to build a strong company culture while being physically apart. It is not enough to ensure employees have a laptop and internet access at home. They face other challenges, too.
In March and April, we were "Trying to work from home, during a crisis." Moving forward, we see that the WFH migration is not over, and we must focus on ways to improve employee engagement and adapt workflows to restore, maintain, or increase productivity.
The use of cloud-based telecommunications systems and other digital engagement platforms will help maintain the human connections we used to experience when we worked together in the same rooms, hovered around the same water fountains or travelled to meetings and conferences together.
Resilience And Agility Never Go Out Of Style
Let's go back to the question of whether we are entering a "new normal" for work and customer engagement or not. Whether you believe it's hype or a fundamental shift in norms, how businesses adapt and take advantage of opportunities to engage customers effectively is still essential. Building resilience and increasing agility never go out of style.
We will explore and expand on the themes and ideas introduced in this post over the next few weeks. Stay tuned for more insights and information on how Toku helps businesses take advantage of the opportunities presented in a post-pandemic world.
---
At Toku, we have a dedicated team to help you and your business in your new digital transformation journey. As a leading CPaaS (Communications Platform-as-a-Service) provider in APAC, we provide cloud communication solutions to build human connections, even in the socially distanced world.
Click here to talk to our experts today to find out how you can better adapt your company's communications to whatever comes your way.