It's 2 a.m. and your customer is stuck with a problem and immediately needs to speak with one of your team.   
They Google a number online, dial it, and get disappointed hearing the next few words, 'We regret to inform you that we are not available after 5 p.m.'   
That frustration that the customer experiences can seriously impact their view of your services.   
On the other hand, imagine someone calls your competitor. And, they hear a voice saying 'press 1 for admin related query, press 2 for…   
Even if the issue doesn't get resolved immediately, they will feel satisfied that they have some options to pick from while waiting for an agent to get back to them.   
The difference between you and your competitor is this – They are using an IVR system in their contact centre to answer more calls, resolve more issues, and get customers in front of the right agents, while you are relying on traditional methods which limit your ability to answer calls.
If that's the case, it's no wonder their customer satisfaction levels are potentially higher than yours.   
What is IVR?
But what is IVR? Well, it stands for Interactive Voice Response.   
Let's put forward the most basic definition of Interactive Voice Response:   
IVR connects customers with the right support agent/information through DTMF (Dual-tone Multifrequency) – essentially options on the number pad, or by assigning those options to a voice command.    
As a caller, you can:
make online transactions,

resolve an issue,

look for information or

directly talk to an agent.

 

 
Essentially, IVR removes the need for a human operator to transfer calls.   
From more than 8,000 customer journeys, Gartner found 70% of customers are using self-service channels during their resolution journey.
Leveraging IVR can help a business beef up its self-service options for customer support.    
What are the most common use cases of IVR in contact centres?
From a streamlined customer experience to an online survey, IVR is nearly everywhere.   
IVR systems can help your call centre  
Explore the initial journey of a caller 

 

Evaluate the call routing 

 

Analyse call centre metrics (eg. number of people attended in one hour)

 

Make changes, review, and compare them against the previous system every day 

 

Update feedback weekly/monthly from your front liners

 
There are many other cool IVR functions that can make a big difference in your contact centre performance. We've narrowed down 7 big benefits of IVR that will elevate your business contact centre performance significantly.   
7 Benefits of IVR to boost contact centre performance
1. Personalise your customer experience
You can easily personalize your customer's journey from start to finish by using relevant customer data and an IVR. It has all the data to pre-qualify callers. And if the call's purpose is known beforehand, it saves a lot of effort to convince the caller that their issues will be resolved. 
Have a look at the top reasons for proactive customer services as stated by Gartner: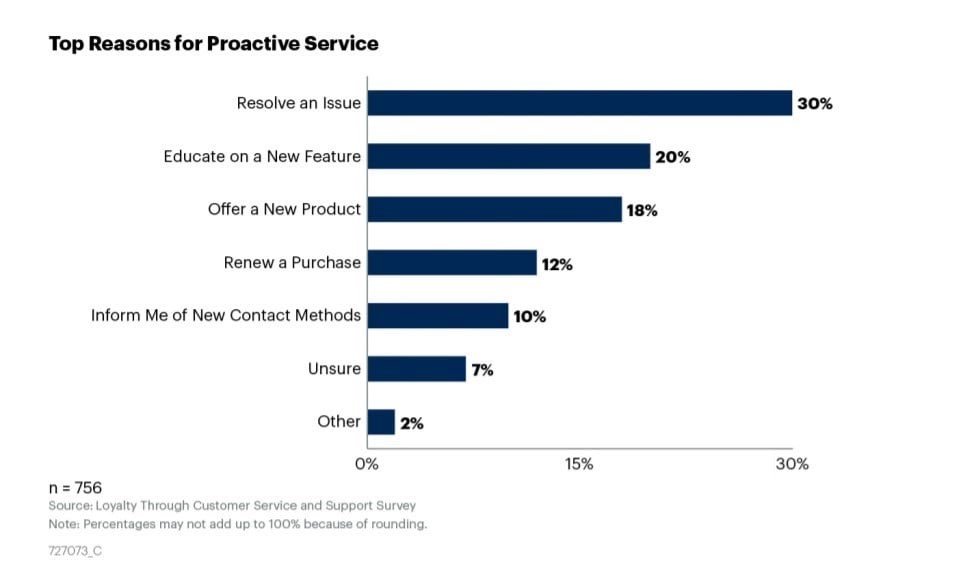 As you can see, resolving an issue is the most popular reason for proactive service. The more data from an IVR that you can funnel into your issue resolution calls, the more your business can customise a resolution on a deeper, personal level that truly hits home with the customer.   
2. Save hours of your customers' time
Customers are looking for automation every single day. They want to complete the same task in less time. Call centres have been quick to accept this transition. Most are now equipped with a well-established IVR service. This doesn't only reduce the total time spent talking to a call centre agent but can bring it closer to zero. 
For a mobile app:  
You can also use APIs to increase your customer engagement levels. For example, you can integrate your voice calls with your technical knowledge base. This assures that the customers get the information they need in the app itself without being redirected from one person to another. 
Gojek uses this feature to increase customer satisfaction by enabling calls within the app, thus keeping the users' contact private.   
Call routing:  
With IVR, you can send the call directly to the most appropriate department. Also, if your automatic commands are smart enough, you can route the caller to the right person in the team. 
This will avoid multiple call routes and create a more professional customer experience.   
Sometimes, the volume of calls received spikes in a day, which can create chaos in a contact centre. With a well-functioning IVR system in place, you can sit and relax.   
3. Collect more customer feedback
If you've picked up calls asking you to press '1' if you were satisfied with your last service experience, you've answered an IVR survey! 
It can be as simple as evaluating the satisfaction for the service they received and asking for suggestions to improve.  
While online surveys usually generate a response rate of about 5% and email 9.3%, IVR surveys have the best response rate. A whopping 70% of users who say they will participate, actually do. Think of all that customer feedback and valuable insights you can literally feed back into improving your products and customer experience!   
4. Be available for your customers at any given time
It's almost impossible to operate beyond standard business hours if you depend completely on human labour. 
Imagine a situation when the customer is stuck with something urgent at an odd hour. He/she immediately wants to talk to customer care. Even if the issue can't be resolved overnight, some level of self-service support delivered through IVR can help resolve the issue without talking to an agent or at least reassure them.   
5. Improve customer retention
Every call centre has a list of high-value customers who have been providing great business for a long time. You can leverage IVR to route these calls to the best customer care executives in your team. 
Not only this, but you can also remove them from the waitlist immediately and prioritise these important customers first.   
6. Enhance customer relationships
Every single part of customer experience ultimately helps you in building a long-lasting customer relationship. 
Through IVR, you can set up certain algorithms that will assure a great customer experience.   
Here are a few you can try out in your IVR:  
Provide a clear option for the user to talk directly with an agent 

 

Make the IVR process as simple as talking to a customer care rep 

 

Main menu should be made extremely simple to navigate 

 

There must be an option for a non-primary language at the end of the main menu 

 

'This call is getting recorded for quality assurance purposes' should be only mentioned when necessary.

 
These might seem like nitty-gritty details. But they all add to the credibility of your contact centre and ensure a smoother, more seamless customer experience.   
7. Reduce costs drastically
"Live channels such as phone, live chat and email cost an average of $8.01 per contact, while self-service channels such as company-run websites and mobile apps cost about $0.10 per contact."
Who doesn't want a seamless experience that lowers business costs, while improving customer retention?     
With suitable IVR algorithms doing the work, customers can get their answer by simply typing a few keys on their phone. This will help them feel more independent, boost confidence in your product and brand, and increase the chances they will buy from you again.   
Avoid these three mistakes for IVR in contact centres
Don't confuse your customers

 – we've seen too many companies try to structure their IVR options around what is convenient for management in terms of call routing and reporting. However, if the options in the IVR sequence don't make sense to the customer, or they are phrased poorly, it can cause confusion and frustrate the customer experience. The caller finds it hard to choose the most appropriate option that matches their reason for calling. Even worse, they could end up being routed to the wrong agent – always a cause for distress.


Don't make it too difficult to speak to a support agent

 – many companies are tempted to add on a lengthy list of self-serve IVR options to meet the needs of their customers. However, if a user has certain complex queries or needs to report sensitive issues, they need a clear path to speak with a live agent. Burying that path under layers of self-serve options is not helpful.

No call-back option

 – we believe IVR systems should always supply customers with an option to get a call-back from a live agent. This is crucial because even the best IVR cannot always address every query. Moreover, support agents may not be available to answer the call at the time of the query. In this scenario, giving the user the option to get a call-back later will make things more convenient for them. The customer will not need to stay on hold indefinitely, which enhances the customer experience.