E-commerce has transformed the retail industry in recent years by providing customers with the convenience of shopping from anywhere, at any time. The rise of online shopping has changed the way businesses reach and interact with customers, offering a more personal and accessible shopping experience.
Back in 2019, APAC was already accounting for more than 57% of global e-commerce sales.
And reports project the region's e-commerce sales to nearly double by 2025 reaching USD 2 trillion.
How are the ecommerce giants here achieving this?
As a Singaporean company, we have seen first-hand how these businesses are evolving.
Our observation: E-commerce success here rides on delivering excellent customer experiences (CX). More specifically, you need to build seamless experiences.
Building seamless e-commerce experiences
Most e-commerce businesses today use a mix of communication APIs and SDKs to deliver a seamless and efficient shopping experience that is personalised and tailored to customers' needs.
In this article, we will explore 5 key use cases for e-commerce using Toku Embeddables – our suite of Programmble APIs and SDKs – to build seamless CX, including:
Delivery updates,
Customer support,
Protecting user privacy, and
Product recommendations
As you can see, these tackle different stages in an e-commerce customer's journey, and extend far beyond the checkout page (eg. product recommendations).
Let's get right into it!
Use-case 1: Programmable messaging for order delivery updates
For any e-commerce nowadays, customers expect them to ship out their items promptly, update them with their order status, delivery status, what day and time it's due to arrive, etc.
The solution?
Send SMS messages to and from your app or platform by embedding programmable messaging.
If you need a primer on programmable SMS, we've got you covered.
Read: What is Programmable SMS and Why Businesses Should Care
The point here is: With a programmable messaging solution, any ecommerce can quickly embed the SMS channel in their app to reach customers on a widely available communication channel they actually prefer. 
Speaking of what consumers actually desire in an interaction…
In Toku's Consumer Engagement Report 2022, we found that for Product Delivery Updates, an overwhelming majority of Singapore consumers (40%) prefer SMS as a communication channel.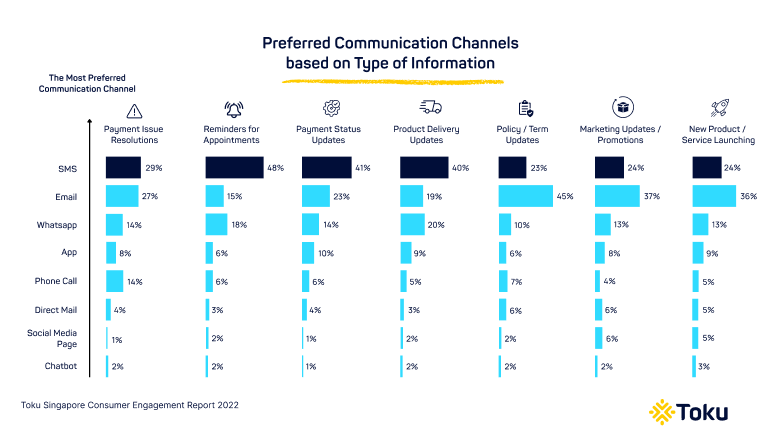 This is double that for WhatsApp (20%) and Email (19%).
Keep these numbers in mind for 2023 if you want to make it easy for customers to receive and read your product delivery updates.
Use-case 2: Smoother user verification
For any e-commerce these days, the risk of fraud from fake customers and false transactions is greater than ever.
But no one wants to alienate their userbase by forcing them to go through a never-ending, laborious authentication process.
To make it even easier for end-users, multi-channel options such as voice calls, messages or phone numbers can all be utilised for authentication.
One-time passwords (OTPs) can be sent using Programmable SMS APIs
Text-to-speech calls can deliver OTPs using voice (made possible by Programmable Voice APIs)
Ping verification can also be used to authenticate Android users, hassle-free (no need for a code or password)
Takeaway: E-commerce companies have many ways now to verify users, making it easier for them to align costs with conversions.
Use-case 3: Support customers with in-app voice to boost customer retention and loyalty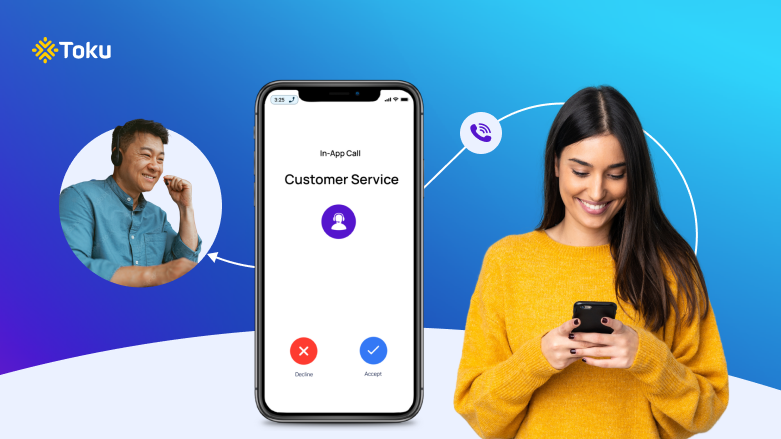 Just because customers are shopping via your app doesn't mean they want a digital experience lacking human interaction.
In fact, it's precisely the human touch in your customer experience that will set your ecommerce apart from the competition and propel you to the forefront. You can easily add the human element by embedding in-app voice calling on your platform.
With in-app calling, you accomplish a few things:
There's no need to switch platforms or channels for problem resolution, so you retain customers on your app longer.
It's more secure since there's no risk of spoof calls/ robocalling.
Customers trust an app that's safer, which makes them more loyal to your platform
Want to know more benefits of in-app calling?
Read: Why In-App Calling is In – Seven Must-Have Benefits Your Business Will Love
Use-case 4: Number masking to communicate seamlessly without compromising privacy
Let's say a customer wants to make a call or send a message to your delivery personnel.
With number masking, here's what happens:
The customer's private number is automatically masked by the system when they make a call or send a message.
Both customer and driver can seamlessly communicate without the need to exchange personal phone numbers.
The masked number is discarded, ensuring complete protection of the customer's privacy.
Use-case 5: Recommend products to increase customer lifetime value
Product recommendations are commonly used in e-commerce and retail businesses to provide personalised recommendations to users based on their browsing and purchasing history.
This feature can help to increase customer engagement and drive sales to improve customer lifetime value by presenting users with relevant and targeted suggestions for products they may be interested in.
The best part is these recommendations can be triggered by different user behaviours in the app, and delivered in various formats – like SMS!
Here's a typical scenario:
Let's say that a customer has been browsing a particular category of products in an ecommerce app, such as running shoes. After a certain amount of time, the app detects that the customer has not made a purchase yet.
At this point, the app could trigger a custom SMS message to be sent to the customer's mobile device, recommending a specific pair of running shoes that are in their preferred style and size.
And of course, the SMS message could be personalised, with the user's name and other details.
If the customer clicks the link and makes a purchase, the app could send a follow-up SMS message to thank them for their purchase and offer them a discount on their next purchase.
Alternatively, if the customer does not click the link, the app could send another SMS message after a certain amount of time with a different product recommendation or offer additional incentives to encourage the customer to make a purchase.
Conclusion
These use cases demonstrate several benefits that an ecommerce platform can achieve by utilising Toku Embeddables.
At Toku, we have a broad portfolio of embeddable solutions including our communication APIs and SDKs that help businesses build more personalised digital customer experiences supported by communication channels integrated in their product, app, or web browser.
Our Embeddables can do some amazing things.
But what we – and several e-commerce players – love the most about them is how they create more engaging and seamless experiences to stand out in a crowded market.