Ever experienced customer service that's so good it makes you want to try out the brand again even though the product itself was just passable?
It's a rare thing indeed. 
You know you've nailed customer engagement when people are impressed enough to tell their friends and colleagues about your company. That kind of engagement is good to strive for, as word-of-mouth marketing is very powerful. You'll also increase customer loyalty.   
But how can you achieve this? 
Thankfully, you don't have to do anything too difficult or fancy. In fact, it's often the small things that make a really big difference.   
For example, ridesharing apps such as Uber and Gojek increase customer satisfaction and security by enabling customers to make a phone call within the app, whilst keeping both driver and customer phone numbers private. To achieve this, they utilised Voice APIs embedded within their app.   
Communication APIs, such as the above example, are a quick and easy way to improve customer experience without breaking the bank. This article will explain what communication APIs are, how they work, and explore the opportunities that they present for both businesses and customers. 
What are Communication APIs?
API stands for Application Programming Interface, which is basically a computing interface that integrates two other pieces of software. APIs are often used to extend the capabilities of an existing app by communicating with or adding-on another piece of software.   
Communication APIs are pieces of software that enable users to embed voice calling, SMS messaging, MMS messaging, and other communication functions into an existing app or software product.   
The functionality offered by a communication API depends on the demands of the user and the aims of the provider. For instance, all voice calling APIs integrate basic voice call functions into an application, but some may or may not include features such as automated call routing, call recording, text-to-speech service, conference calling, etc. 
The importance of customer experience
One of the major challenges faced by companies is how to provide excellent customer experience.  
The main problem is that most businesses overestimate how well they are doing in the customer experience department compared to how customers perceive it.   
A Bain & Company survey revealed that 80% of CEO's believe that they provide superior customer experience, while only 8% of customers agree. Just 8%! This illustrates the huge gap between the business perception of customer experience compared to the reality.   
With this in mind, it becomes pretty clear that to stand out from the competition, it's imperative to improve customer experience. In fact, it can make the difference between sinking and swimming for businesses operating in a crowded marketplace.   
A PWC report  revealed that 32% of customers would walk away from a brand after just one bad experience. Also, there is a 16% price premium reward, plus increased loyalty, for brands that provide a genuinely good customer experience. 
How to improve customer experience
One of the main ways identified by Tti Global Research is to bridge the gap between customer expectation and customer perception. Poor delivery caused by clumsy processes is a major obstacle to delivering a high quality customer experience.   
In other words, you need to aim to make your customer experience as seamless as possible.   
The example mentioned earlier of Uber and GoJek providing anonymised phone calls within their app is a good case in point. Companies realised that offering a seamless and secure way to facilitate communication would improve both customer engagement and customer experience, thus boosting customer loyalty.   
However, many companies still don't offer an omnichannel experience or they have insufficient integration of communications within their product or service. This is where communication APIs can help. 
Powering up customer engagement with APIs
Communication APIs are designed to simplify communications integration with existing software products and apps. Therefore, communication APIs are the ideal tool to boost customer engagement and experience in a seamless way.   
For instance, if you have a contact centre for customer support, you can use an API to integrate the voice calling capability with your technical knowledge base. This creates a seamless link between customers getting the information they need, when they need it, rather than being passed between departments, or from agent to agent.   
Another example of applying an API to increase speed and efficiency, thus improving customer experience, is in user authentication. Communication APIs can provide a method of using Voice or SMS messaging to provide in-app authentication.   
The mobile food ordering and payment app Waitrr applied Toku's two-factor authentication to allow new customers to register securely and quickly, which helped to boost Waitrr's reputation and loyalty.   
For businesses that operate in the information or data-sharing industry, customer engagement and experience can be enhanced by offering extra security and safety in a seamless way. Communication APIs enable businesses to communicate data anonymously, so that customer data is not exposed.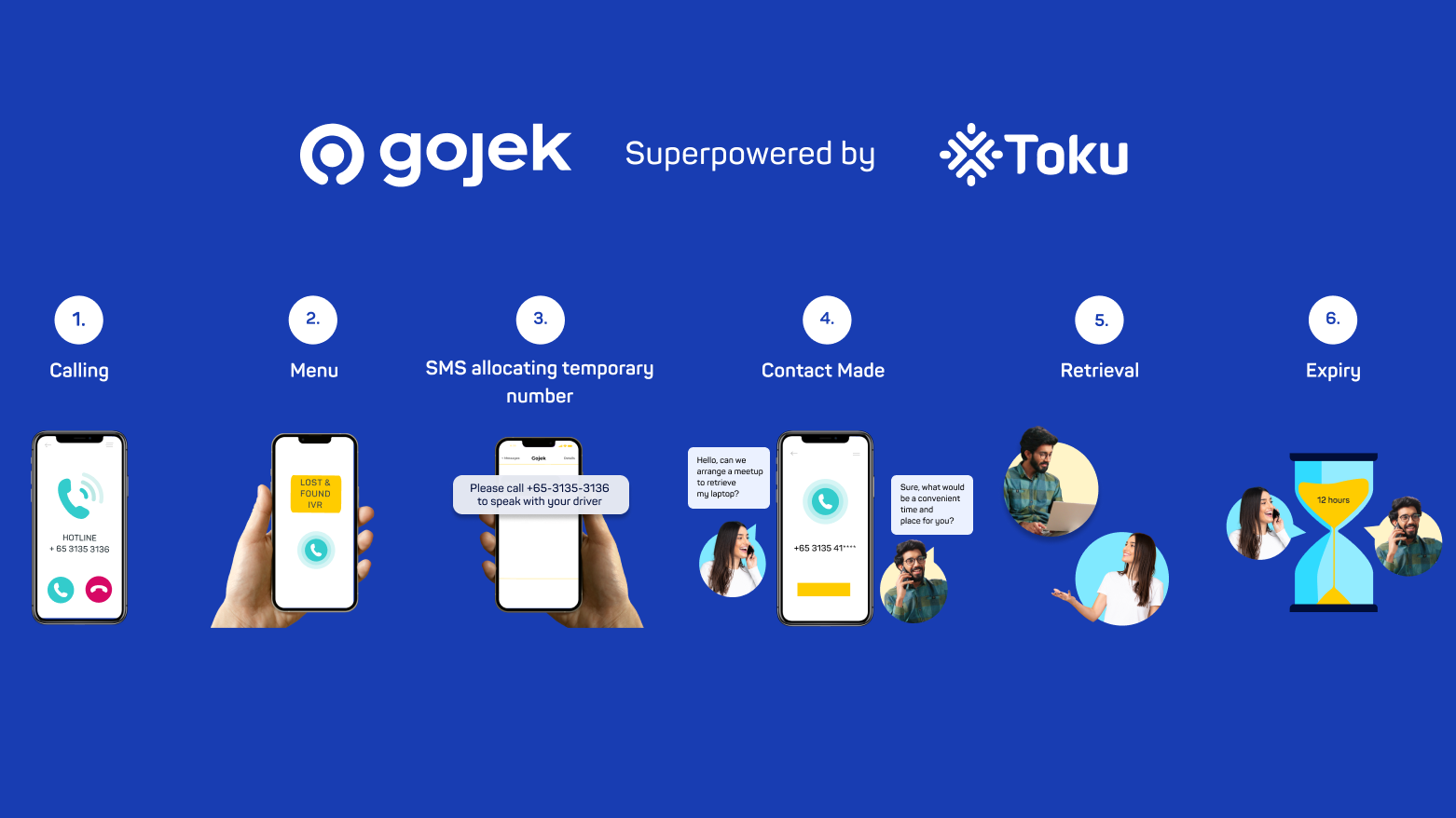 For example, Gojek, an on-demand multi-service platform and digital payment technology group based in APAC uses Toku's programmable voice and SMS APIs for their Lost & Found feature. The Toku API allows them to create a secure communication channel between the passenger and driver to help retrieve their lost item. 
Remember – good customer experience can help to increase customer loyalty and lift your profits.