Travel and hospitality companies like hotels, airlines and travel-agencies have been hit hard for the last two years thanks to pandemic travel restrictions. However, customers are traveling again, and they may not necessarily want to book their accommodation and tours the way they used to pre-pandemic. For instance, some travel and tourism research has pointed to longer consumer buying cycles over the past year.  
Also, our research on consumer engagement has shown that more than ever, the post-pandemic consumer expects seamless customer experiences (CX) as a given.  
So how can a tour operator, travel agency, airline or hotel chain make their customer experience soar to new heights? We believe the answer lies in CPaaS (Communications Platform as a Service) and CCaaS (Contact Centre as a Service) solutions. Here are 5 innovative use-cases to help you build a truly frictionless travel and hospitality experience. 
Use-Case #1: Making a phone call to a traveller on the move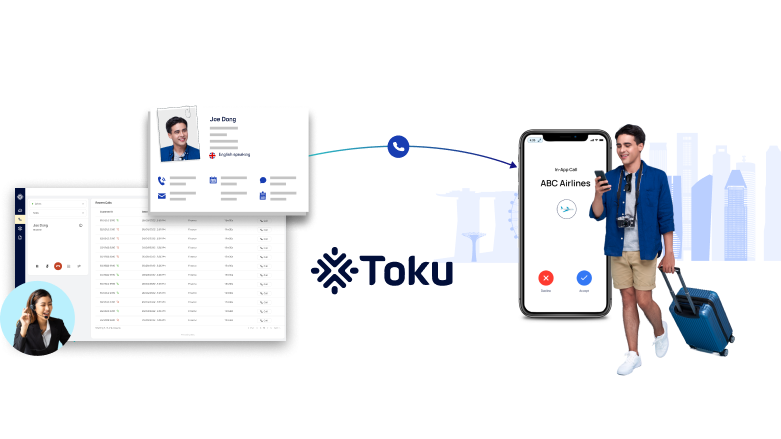 A constant challenge for any hotel or airline is being able to reach a customer who is travelling, and more importantly, travelling between different countries. Whether it's regarding a flight delay or hotel room availability, if you make the call over a traditional phone line, the customer is unlikely to answer simply because:  
They want to avoid roaming call charges, or

 

They may not even get the call because they have switched their SIM card.

 
However, if the call is made via the airline's or hotel's app, the customer is more likely to pick up because data is ubiquitous nowadays. There is also the added benefit of trustworthiness since an in-app call assures the customer it really is the hotel / airline calling them through the proprietary app – not a scam call.  
Voice APIs and SDKs make in-app calling possible by embedding voice-calling capability within the app easily. The best part is that businesses can combine a voice SDK and programmable voice API to embed a backup option for traditional telephone calls in case the internet connectivity fails.  
Use-Case #2: Instant, automated SMS for booking, payment, and updates
By now, most of us are used to receiving updates from hotels, airlines and travel agencies on our bookings via email. However, did you know that Gartner research has shown SMS open and response rates can be as high as 98% and 45%, respectively? This is way higher than that for email (20% and 6%, respectively)! 
Moreover, we found in our Consumer Engagement Research that 57% of Singapore consumers prefer to receive reminders via SMS.  
Automated SMS notifications are thus one of the best channels for communicating updates needing a customer's immediate attention. With Programmable SMS APIs, you can schedule and automate communications, and send reminders – and be confident your customers will get the notification! 
Example 1: Airline updates
Airlines can send instant notifications about flight delays and cancellations so that customers can plan alternative travel arrangements accordingly. 
Example 2: Hotel bookings
Let's say a super popular hotel is fully booked, but a customer unexpectedly cancels their reservation. Now you have a vacant room because no one knows if the room is available. To avoid this wasted opportunity, the hotel can program their automated SMS workflow to send potential customers an SMS when a room opens up, with a link to book directly in the SMS. 
See how seamless the customer experience is with CPaaS?  
Use-Case #3: Tackle high ticket volume with a unified CCaaS
The travel and hospitality industry has always had its high and low seasons. Now with 'revenge travel', it's only natural to expect higher average ticket volumes and handling times. So how can hotels, airlines and travel agencies best support their agents in this scenario?  
By empowering them with a unified full-context view on the CRM, all customer touch points and various communication channels on one single platform – i.e., an omnichannel contact centre (CCaaS).  
When the integrations are done properly with the solution provider, a CCaaS will immediately boost agent productivity and efficiency by removing the need to switch between platforms to speak with customers. And because it's all unified, a CCaaS gives agents seamless access to phone calls, SMS, WhatsApp, and multi-channel messages in one browser-based solution.  
Use-Case #4: Deliver concierge-level customer support with better agent coaching
Most travel and hospitality businesses understand the importance of effortless customer experiences. 
And a big part of this is coaching their support agents to deliver the support customers expect, particularly when the customer feels frustrated. In this use-case, having more context on the customer-agent interaction can help supervisors to coach their agents. 
A CCaaS platform can give easy access to call recordings and transcriptions of customer calls. With these in hand, supervisors have a fuller picture of the interaction, enabling them to give feedback to agents on what exactly to improve the next time they interact with the customer.  
Use-Case #5: Boost engagement with automated SMS campaigns
According to SMS marketing statistics, nearly 50% of potential clients would choose a product or brand after receiving an SMS.  
This presents travel and hospitality marketers with a fantastic opportunity to send timely, automated offers via SMS to their customers, while leveraging an important marketing channel that users engage with at high-open rates.  
For example, travel agencies can send promotional offers for new travel destinations, and hotel deals. Airlines can add rich content to their SMS, including vouchers for free drinks, and discounts on in-flight services like Wi-Fi and entertainment options.  
The sky really is the limit! And all this can be done easily with an SMS Campaign Manager, particularly one provided by a cloud communications service with excellent connectivity. The connectivity piece is important to look out for because it ensures your SMS campaigns have better reach and higher deliverability. 
Ready to take your travel and hospitality CX to new heights? 
There's never been a better time for travel and hospitality businesses to focus on their customer experiences. Businesses that invest in the right cloud comms technologies to fit their use-cases, and reimagine customer experiences, will flourish and thrive for years to come.